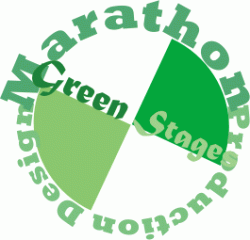 Green Stages
Green Stages is a lighting consulting service designed to save money, conserve precious resources, and promote a clean, healthy environment.
---
Energy Costs Give Green Light to Green Stages


by Richard Cadena

In the movie

The Graduate,

a family friend offered Benjamin Braddock some career advice at his graduation party.

"I want to say one word to you. Just one word; plastics."

If that film were made today instead of in 1967, the "word" might have been "fuel surcharge." Okay, that's two words, but they're two very interesting words. The electric company uses those words as a way of saying, "There's been a price increase, but it's not our fault!"

Get used to seeing it.

The fuel surcharge is the handwriting on the wall. According to Lieutenant Colonel John M. Amidon, USAF, in his article

America's Strategic Imperative: A "Manhattan Project" for Energy

(published August 31, 2005 by Joint Forces Quarterly, a dwindling supply of non-renewable fossil fuels, increasingly difficult access to oil (much of the world's oil supply comes from politically volatile parts of the world like the Middle East), and a steadily rising demand all add up to trouble for energy consumers.

But with that trouble also comes opportunity for those who can help save energy...

click here to continue reading...

Free, no obligation telephone consultation Call or e-mail now to discuss whether or not your facility can benefit from more efficient lighting. FAQ:Who can benefit? If your building is ten years or older, you may benefit from an upgrade. Send us a copy of your utility bill, a drawing or description of your facilities and your lighting plot, and we can tell you whether or not we think you should pursue alternatives. What kinds of recommendations are typical? It depends on your specific application, but energy efficient alternatives to conventional lighting might include LEDs, fluourescents, ERS fixtures, or other technology. How much will it cost? Typically the energy savings will pay for the upgrades in a one- to three-year payback. If the energy savings aren't sufficient to pay for upgrades then your lighting may not warrant any changes. Call or e-mail now for a free, no-obligation consultation: 512-280-0384






---
Example Project
A church in Houston was originally built in the early 1970s and the lighting was upgraded in the mid-1980s. It had three stained glass windows that were back-lit with 190 1000-watt cyc lights and there were 168 1000-watt PARs used for the house lights. By replacing cyc lights with 109 324-watt T5 fluorescent fixtures and the house lights with 575-watt ERS fixtures, the energy consumption was cut by 55%. In addition, the lower power consumption results in a lower air conditioning load, saving even more energy and money. With a conservative estimate of 20 hours per week of use, an electrical cost of $0.0986 per kilowatt-hour, and a SEER of 10, in a year's time, the building owner will save about $28,600.

Before:

Total energy consumed: 392,080 kW-hours

Total thermal load: 1,286,377 BTUs

Annual cost of electricity for A/C: $13,191

Annual cost of electricity for lights: $38,659

After:

Total energy consumed: 175,848 kW-hours

Total thermal load: 576,942 BTUs

Annual cost of electricity for A/C: $7,275

Annual cost of electricity for lights: $21,320

Total Annual Savings: $28,595

Amount of coal saved annually: 119 tons

Amount of carbon dioxide saved annually: 218 tons

Coal-burning power plants also release arsenic, beryllium, cadmium, chromium, copper, lead, mercury, nickel, molybdenum, radium, selenium, vanadium, and zinc into the atmosphere. Saving energy not only saves money, it also makes good environmental sense.
---